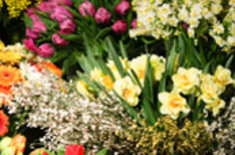 An abundant range offer:
Producers
Wholesalers
Importers
The sellers offer a wide range of cut flowers when it comes to species as well as races and origin countries
We can find here many Polish races as well as rare exotic species. Cut Flowers Domestic species: iris, freesia, China pink, anthurium, rose, gerbera, glorious flower, tulip, jonquil, gladiola, lilies, peony, phlox, larkspur, dahlia, sunflower, amaryllis, stock, anemones, alstremeria, asters, lily-of-the-valley. Imported species: rose, chrysanthemums, eustoma, alstremeria, orchis, ginger, anthurium, glorious flower, strelitzia, ixia. Cut green: coconut, asparagus, leder, grass, pfenix, salal, palma, salix, ilex, monstera. Potted flowers and plants Constant offer: saintpaulia, cyclamen, rose, pteridopsida, dracena, scheflera, diffenbachia, hydrangea, kalanchoe, arrowroot, passionflower, azalea, yucca, croton, jade plant, gardenia, ivy. In season the offer of border and balcony plants, inter alia: heathers, chrysanthemums, begonias, lily-of-the-valleys and conifers. The potted plant offer covers a full range during whole year. In addition, the offer is completed by the exhibitions of very rare fruits of specimens connected with decoration of interiors with potted plants.
Flower and decorative accessories:
Flower accessories
Decorative items
Flower sponges
Plants and flower covers
Synthetic and dried flowers
Wicker articles
Glass, china, ceramics, brass
Souvenirs
Care preparation for flowers. Flower and decorative accessories are a significant supplement to to the flower branch. In connection with a large interest in new trends in floristics, among accessories offered we can find traditional materials as well as all the novelties.
High product quality high quality of living flowers is assured by:
Proper storage conditions
Cut flowers are stored and conditioned in modern open for all coolers of total area of 200 m2
Comfortable commerce conditions – air-conditioned halls Flower and plant material selling is being carried out in conditions allowing for maintenance of high quality and good condition. Proper commerce conditions give to the customer a guarantee of satisfaction and lowered risk of loss, caused by an improper storage. Perfect transportation conditions – loading dock The customers have a modern loading / unloading dock at their disposal, which protects the plants against a thermal shock regardless of season of the year and weather conditions. The dock is fitted with hydraulic platforms facilitating goods loading and unloading process.